In memoriam Peter Greve
(1931 - 2021)
We are saddened to learn that Peter Greve passed away September 10, after a short illness.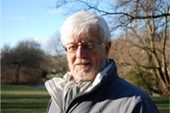 Peter Greve was born in 1931 in The Hague. He received musical education from, Léon Orthel, Willem Frederik Bon and Terence Lovett (UK) and others. He also studied chemistry at the University of Leiden, where he obtained his doctorate (cum laude) in 1959.
He has since worked as a scientific researcher for, among others, Philips-Duphar in Weesp and the RIVM in Bilthoven. Even after his retirement in 1991, he remained active as a consultant for the EU, the WHO and other international organisations.
From his earliest childhood, however, it had been his fervent desire to write music himself. After intensive practice and study, he did not dare to call himself a composer until he was 70 years old. From that moment on, however, there was a real heyday, which lasted until just before his death. Almost forty works were created, often of large proportions and in a clear, timeless style all of their own. Examples are choral songs on Eastern European folk poetry and Dutch children's poetry, Bijwerkingen – a psycho-pharmacological excursion for 5 wind players, compositions for carillon (later in combination with sound track), the collaboration with illustrator Rik van Linden van den Heuvell from which 'Het paleis van de Droomkoning', 'Artic Saga' and 'De Thuiskomst' were created and 'For Frank' – Five Pieces for piano duet.
His family and partner will lovingly and in his honor manage his legacy in the Peter Greve Foundation. See www.petergreve.nl
Peter Greve was a very involved (New) Geneco member, he manned the Geneco booth several times on chamber music day and (in the pre-Covid era) did not miss a single meeting. We knew him as a humble man with a positive attitude at member meetings and a warm, friendly appearance.
We will miss him.
On behalf of the New Geneco,
Joost Kleppe, composer